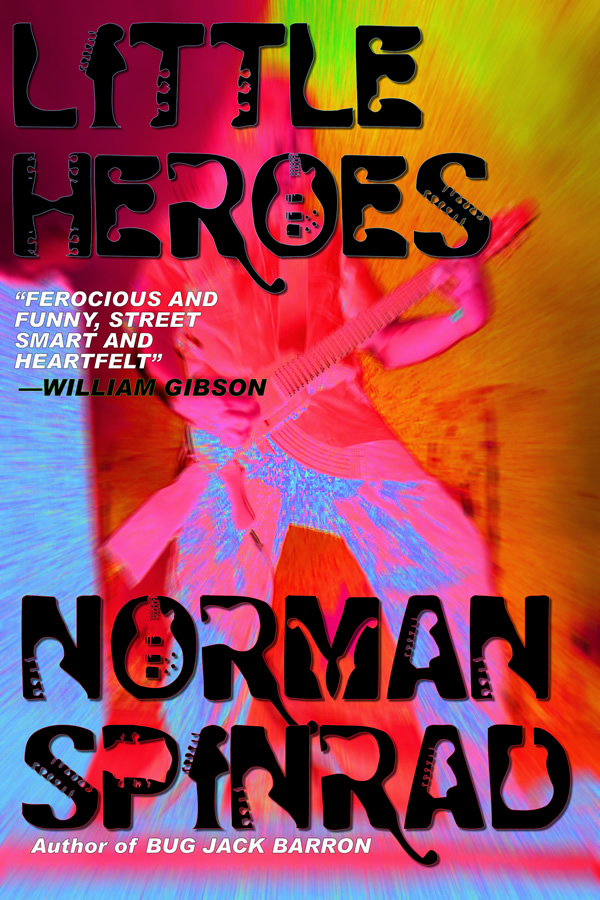 Little Heroes
Price: $17.99 (Includes free shipping within the US. Please contact us for shipping costs to other destinations or wholesale/bulk orders. International shipping can unfortunately be quite costly; you may do better through local bookstores.)
Format: Paperback
Norman Spinrad, acclaimed author of BUG JACK BARRON and CHILD OF FORTUNE, has create an extraordinarily powerful novel of sex, rock and revolution driven by a relentless 4/4 beat.
It is the near future. Tens of millions now live in the streets. The City teems with Uzi-toting enforcers, kibble-munching streeties and wire heads plugged into the latest electronic high.
And somewhere along the line, rock and roll has lost its soul — or rather sold it to a megacorporation that churns out synthesized hits with all the passion of the market research reports that dictate their demographic parameters.
From the highest towers of the corporate world to the sex-and-thrill bars, to the death-infested streets, an explosion is about to take place.
"The Spinrad of BUG JACK BARRON is back with a vengeance. LITTLE HEROES is ferocious and funny, street smart and heartfelt."
—William Gibson
"LITTLE HEROES is written with wisdom, human warmth, astonishing insight, sophistication and the master touch. Norman Spinrad is a major literary figure of our time. It's a rare pleasure to read this engaging mind."
—Timothy Leary
"Vintage Spinrad. A novel which mourns the death of rock and roll — and celebrates its rebirth."
—Michael Moorcock
~~~
Not released yet—coming soon!
We hope you enjoy the book! If you like it, please tell others to visit www.ReAnimus.com/1310
---